Advantages of suction extraction
Non-destructive test (air/ESD protection) means the component can be reused after testing
Particle monitoring can be used at any point on the production line
Simple testing of extensive components thanks to the flexible test system
Selective testing without masking sections possible
Application-specific testing of components which must not be exposed to liquid media
Reduced operational and logistics costs for component tests in the process environment and liquid extractive media no longer used.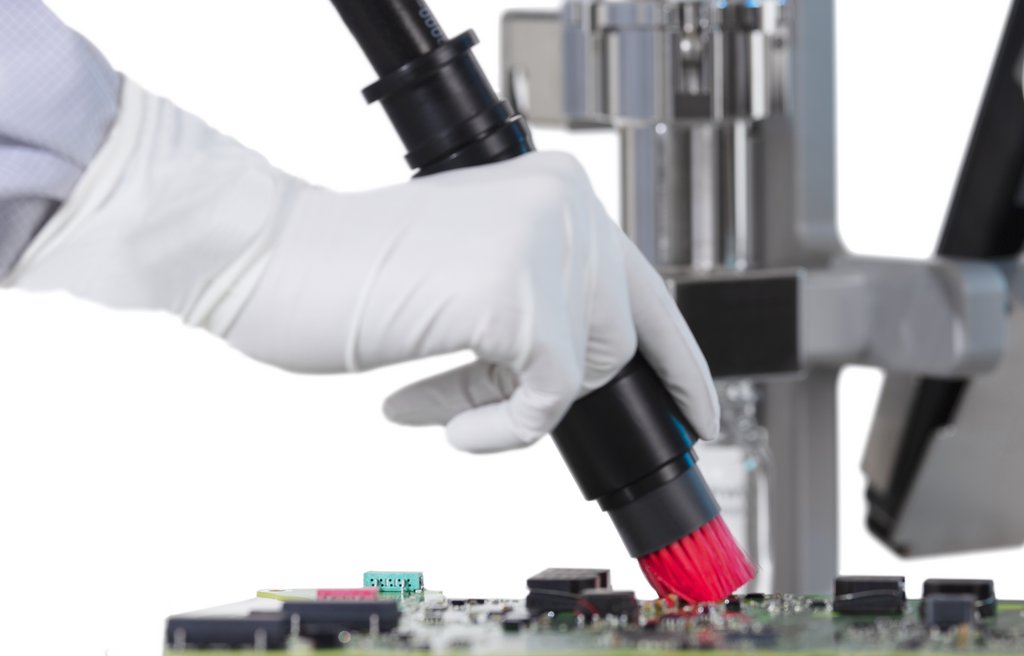 Effectiveness of suction extraction
Indirekte Prüfung
An indirect test is used to identify particle contaminants mainly produced during the manufacturing process. These are extracted during the component's sampling stage before microscopic analysis consisting of measurement, counting and type identification of particles. A dry or liquid medium is used for this extraction process.
The main extraction processes include:



A working grout of the German Electro and Digital Industry Association (ZVEI e.V.) carried out a comprehensive study to investigate the effectiveness of these three extraction processes in 2021 based on a large-scale series of tests with different electric and electronic assembly groups. A number of components were taken from HV plug-in connectors, connector strips and printed circuit boards from the same production batches and then tested and analyzed using these three extraction processes. The study focused on the total number of particles in several individual analyses and the breadth of their dispersion among them.
The analysis showed that all three methods studied reliably extracted the largest metallic particles. The results also reveal that, although components from the same batch have a wide dispersion, this dispersion shows an adequately normal distribution so that mean values and standard deviations can be derived from it.
Statistical evaluation of effectiveness
The statistical evaluation shows that the procedures are comparable with each other.
As a general rule, there is
a correlation of 88–96% between air jet and pressure-rinsing with a mean rel. deviation of -24%
a correlation of 97–99% between suction and air jet with a mean rel. deviation of +34%
a correlation of 96–98% between suction and pressure-rinsing with a mean rel. deviation of -1%.
All extraction processes are suitable for determining and comparing the surface cleanliness of electronic components. Firstly, this is thanks to the reliable extraction of the largest particles and, secondly, due to the good correlation between the processes.
Suction extraction in action - application videos
Detailed application videos about the design, blank value, the different types of use up to the cleaning of the particle suction extraction system C|PS² can be found here: